Breast Thermography in Fairlawn

Peak Family Chiropractic in Fairlawn will help you learn all about Breast Thermography and why it's important to get tested. Give us a call today to schedule an appointment.
---
What is Breast Thermography in Fairlawn?
Breast thermography is a simple way to assess breast tissue. It is a non-invasive scan that can detect what is going on in your body years ahead of cancer showing up on a mammogram.
Thermography (DITI) is a clinical test of physiology. It is a valuable procedure for alerting your doctor to changes that can indicate early stage of breast disease. DITI uses Digital Infrared Thermal Imaging technology to record and assess your breast health with no dangerous side effects. The benefits of Thermography (DITI) are that it offers the opportunity of earlier detection of breast disease than through breast self-examination, doctor examination, or mammography alone.
It detects the subtle physiologic changes that accompany breast pathology, whether it is cancer or fibrocystic disease. Your doctors can then plan accordingly and lay out a careful program to further diagnose and/or monitor you during after any treatment. A certified Clinical Thermographer will record your history and take thermal images during a 15 minute private and discreet appointment.
You will need two sets of imaging done approximately three months apart to establish a baseline of your stable pattern. Your thermograms will be kept on record and compared with your annual return to detect any changes in your pattern that may indicate breast pathology. Your results are reported quickly by certified doctors and include all color images taken during your test. It takes years for a tumor to grow, thus the earliest possible indication of abnormality is important to allow for the earliest possible treatment and intervention. DITI's role in monitory breast health is to help in early detection and monitoring of abnormal physiology.
---
WHAT IS THE DIFFERENCE BETWEEN A BREAST THERMOGRAPHY AND MAMMOGRAM?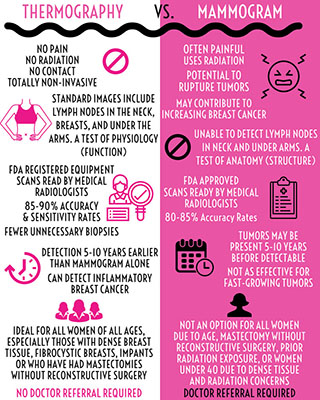 ---
WHAT IS THE COST?
Our onsite Breast Thermography takes place every 3 months at our practice from 8 AM to 12 PM. Our Breast Thermography includes an initial scan and follow-up consultation to create the right breast health strategy for you. The cost of this scan is $250.00 and only takes 15 minutes. We do require a $100 deposit when we set up your appointment. If you have never had a Breast Thermography scan done before, it requires 2 scans to be done within 90 days in order to have an accurate baseline. After that, typically people have scans done once a year. If you would like to purchase both scans along with consultations we offer $50 off. The cost for both scans would be $450.00.
---
DOCUMENTS TO GO OVER BEFORE YOUR APPOINTMENT
*** Please contact the office to schedule your appointment and make payment. Also, if you have any questions please feel free to contact our office at (330) 670-9400 or email us at outreach@peakakron.com. Thank you!
OFFICE HOURS
---
Monday
8:00am - 12:00pm
3:00pm - 6:00pm
---
Tuesday
8:00am - 12:00pm
3:00pm - 6:00pm
---
Wednesday
8:00am - 12:00pm
3:00pm - 6:00pm
---
Thursday
8:00am - 12:00pm
3:00pm - 6:00pm
---
Friday
8:00am - 12:00pm
3:00pm - 6:00pm

---
Saturday & Sunday
Closed